Ok
so if you saw yesterday's post you know how "unorganized" I have been lately. Well while surfing the much needed stress relieving decor blogs I came across "
Tip Junkie
" and her site. Well it seems that on Tuesdays she has what is called Talk to me Tuesday's and guess what the topic is this week? You guessed it!!! Organization in the home!!! Follow this banner to be taken to the topic and discussion directly: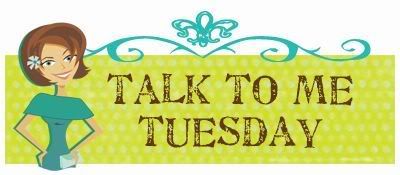 There will be tons of gals adding their links and giving ideas on how they organize their lives! But be
forewarned
!!!! It's addicting ......the BLOG surfing!!!!
**Don't forget to bookmark TIP JUNKIE! Her site is chalked full of great things!!!
Now on to what I woke up to this morning.........................................
This of course means NO SCHOOL! So it's home with the kids and probably getting just as don't today as I did yesterday....
LOL
well I guess I did get almost all the laundry done, but why does that still seem like nothing???
Till Later
~Amy
(looks like I need to reset my cameras date!!!)